About Us
Years of Looking Up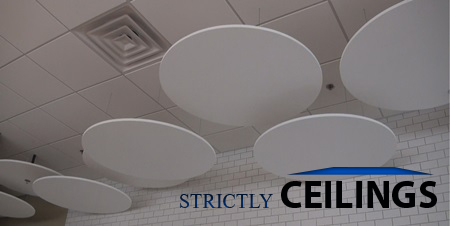 For the last 20 years, it's been my goal to help others enjoy their space by installing professional suspended drop ceilings. That's why I started Strictly Ceilings®. My crew and I have now installed over seven million square feet of ceiling all across Wisconsin and Northern Illinois. We've served all types of residential and commercial clients. Some of our clients include the Catholic Church, PPG, Coke and multiple School Districts. We've done ceilings for manufacturing plants, cleanrooms, banquet rooms, and medical offices. You name it, we've probably done it.
Now we're taking it to the next level and we want to help others learn how to do it too. On our website, you can find dozens of detailed how-to instructional videos showing step by step how to put up a professional quality acoustical ceiling 'The Right Way, The First Time'. Check out our entire How-To Ceiling Installation Video Library. From beginners to Pros, there is always something new to learn from our experience.
In addition to acoustical ceiling installation, we also offer ceiling tools, hardware, Lagmaster Poles and more for contractors and homeowners in our online Superstore. We've picked up a lot of ideas over the past decades and it made perfect sense to begin designing a line of products to keep professionals on top of their ceiling work. So, we've invested in designing a PRO line of tools for ceiling installers all over America. These tools are ergonomic, efficient, and designed to last longer than the standard tool. We use them every day and we hope you'll give them a try too!
Thanks for stopping by our page and good luck with your ceiling project!
Tim Chapel, Owner