Introduction to Ceiling Tiles
Drop Ceiling Tile Ideas And Pictures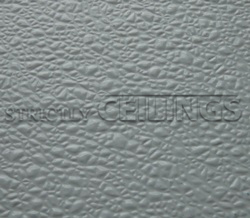 Have you ever felt frustrated because you didn't know enough about a product before purchasing and later, after you made your purchase, found out there were better options and designs?
Choosing a drop ceiling tile for your custom suspended ceiling has never been easier! Over the last 20 years, Strictly Ceilings has accumulated a wealth of knowledge about suspended ceilings and we want to pass that knowledge on to you!
Whether your project involves suspended ceiling tile in an office space or in your basement or anywhere else, Strictly Ceilings will help you choose the right drop ceiling tile for your application.
Choose drop ceiling tile designs from all the top name brand manufacturers such as Armstrong, USG, and Certainteed. From price sensitive basic designs to mid-range or high-end designs, Strictly Ceilings is sure to help you find the drop ceiling tile which fits your budget and design requirements.
Strictly Ceilings has produced over 30 independent drop ceiling tile videos on all the top name brand ceiling tiles like Armstrong, USG and Certainteed. View Ceiling tiles designs that fit your budget, watch a independent video of each drop ceiling tile. Find out what drop ceiling tiles look like before and after they are installed, read about their performance ratings, and compare different suspended ceiling tiles for your project before you purchase.
Installing drop ceiling tiles brings a room to life. There are many different types of suspended ceiling tiles and Strictly Ceilings can help you decide what drop ceiling tile to decide on. Various styles enhance the attractiveness of the entire room, suppress noise and improve insulation. Check out our video on the performance and specifications of ceiling tile and how to apply them to your project.
In addition to ceiling tiles, choosing the correct grid system to match your ceiling tile will give you an extremely attractive visual touch. Regardless of which style you choose, Strictly Ceilings helps you decide which tile is right for you. Want to install the tiles yourself? Check out our video on "Ceiling Tile Installation" to learn how to expertly install ceiling tiles and improve the appearance of your room.
Suspended Ceiling Tile Designs ideas That Fit Your Personal Style and Budget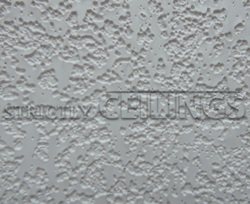 Ceiling tiles for suspended ceilings come in all different styles and designs. Update any basement or office by installing a drop ceiling tile which compliments your personal style. Strictly Ceilings has the best Drop Ceiling Tile Showroom on the web!
There are two basic styles of drop ceiling tiles, 'flat' or 'revealed edge' which are also known as 'tegular' tiles. Flat drop ceiling tiles sit Flat within the ceiling grid and revealed edge or tegular tiles sit below the grid giving you a dimensional look.
Choose from traditional flat ceiling tiles like the USG Radar or Armstrong Cortega tiles or a more modern texture design like the Certainteed Symphony or USG Mars ceiling tile. For a little more texture, check out the Armstrong Ultima ceiling tile.
If your budget doesn't allow for an extravagant look, you might want to consider the USG Astro tile, the Armstrong Dune ceiling tile, or the USG Olympia Micro ceiling tile. View our free ceiling tile videos in our Tile Showroom and gain the information you need to choose the drop ceiling tile which fits your budget and your space.

Ceiling Tile Performance Specifications
Commercial and Residential suspended ceilings not only add visual value to a room, but they also perform in ways that are beneficial to the user as well. Check out our video on Ceiling Tile Performance Specifications.
For commercial suspended ceilings you may have a conference room where added privacy is a concern. If so, then choose a ceiling tile that is at least ¾" thick and has a higher 'NRC' (Noise Reduction Coefficient) value to absorb sound.
If your acoustical suspended ceiling is installed into a basement or private office where you don't want sound to transfer from one finished space to another, then choose a ceiling tile that has a high "CAC" (Ceiling Attenuation Class) value. This rating is beneficial for sound transfer though a panel and up into the space above it. The higher the CAC value the greater the resistance to sound transfer.
Ceiling Tile Installation
Maybe you've decided that you'd like to try and install your new suspended ceiling tiles yourself? If so, then check out our Tile Installation how-to video and learn how to install suspended ceiling tiles just like a professional. Strictly Ceilings Tile Showroom helps you choose a ceiling tile that is easy to install and fits your budget.
After 20 years in the suspended ceiling business, Strictly Ceilings knows which ceiling tiles install faster and easier than others. Ceiling tiles that are flat will install faster than revealed edge or tegular tiles. Acoustical ceiling tiles with a smooth texture such as the USG Radar tile, the Certainteed Baroque tile, or the Armstrong Cortega ceiling tile, generally are easier to cut than ceiling tiles with a rough texture such as the USG Frost, the USG Glacier, or the USG Sandrift ceiling tile. Some ceiling tiles have a fabric face, like the USG Mars ceiling tile and will cut and install faster than the fiber-based tiles with a painted surface.