Transform your basement ceiling in as little as one day!
There's nothing more frustrating than a project that drags on too long, that's why Strictly Ceilings® and their professional suspended ceiling installers in Milwaukee will get in and get out of your basement in as little as one day. Transforming your basement drop ceiling from a dark and unattractive space into a bright, appealing, and updated space that will be sure to draw the admiration of any of your guests is our goal.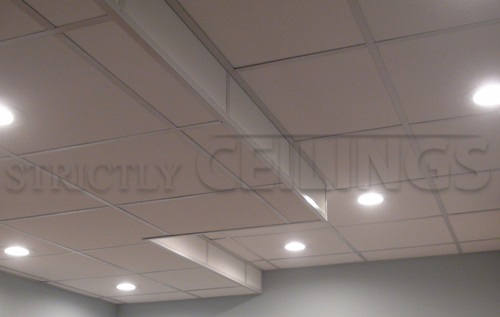 Do you have low beams, ductwork, pipes and other obstructions or unattractive elements in your basement? No problem! Strictly Ceilings® will create a custom suspended ceiling system to wow your neighbors and friends! Take a look at some of our finished suspended ceilings!
Want to save even more money? Have you been thinking that you could install your drop ceiling grid and tile yourself? Check out our How-To Video Library and learn how to install a suspended ceiling JUST LIKE A PROFESSIONAL – THE RIGHT WAY, THE FIRST TIME.
You'll find the tools that you need to install a drop ceiling by visiting our online Superstore.
Don't know what type of ceiling tile you want yet? Check out our tile and grid Showroom and view all types of ceiling tiles to find out what design fits your budget and space.
Do you feel the drop ceiling grid and tile installation is too complex? Then let the drop ceiling experts at Strictly Ceilings® install for your project.
Residential ceiling installations aren't what they used to be. They're better! Intriguing and creative architecture has resulted in far more complex residential ceiling designs. Expert installation by the Milwaukee ceiling specialists at Strictly Ceilings® is the key to a long life for your new drop ceiling.
Strictly Ceilings® Is The #1 Drop Ceiling Installer In Milwaukee Wisconsin & Illinois.
It couldn't be easier. Our skilled Milwaukee drop ceiling installers will expertly handle every type of ceiling project – grid and tile ceilings, drop ceilings, acoustical ceilings and false ceilings. You name it, they can – and will – do it. Customers are often amazed at how skillfully and quickly our Milwaukee drop ceiling installers install suspended ceilings, tiered ceiling systems and other designs with different levels. All projects are quoted firmly and fairly over the phone based on the information you provide. Contact us today!
Strictly Ceilings® is the largest non-union drop ceiling installation contractor in Wisconsin. Strictly Ceilings® offers flexibility and varied scheduling to handle your project, regardless of complications or special needs. We want you to be satisfied. We'll do everything we can to make it happen.
Milwaukees Top Drop Ceiling Installation Contractor Will Complete Your Project on Schedule
Our efficient drop ceiling professionals will complete your residential suspended ceiling installation on schedule and on budget – whether in Wauwatosa, Brookfield, New Berlin, Waukesha, Racine, Kenosha or Illinois you name it! Strictly Ceilings® works with you to make sure that your drop ceiling is delivered on-time in the most professional manner possible. If needed Strictly Ceilings® will also provide you with the exact ceiling tools and supplies you need for do-it-yourself ceiling repairs.
Our Milwaukee drop ceiling installers know all about every ceiling project there is, including acoustical ceilings, drop ceilings and all other types of custom ceiling designs. Our drop ceiling experts have earned a wonderful reputation over the last 20+ years for top-quality suspended ceiling installations in Milwaukee, Wauwatosa, Brookfield, New Berlin and Illinois.
The Perfect Custom Drop Ceiling Designed For You – Creative, Practical and Cost-Efficient
Occasionally, a special design will be needed for a residential ceiling. Ususally, because of their low headroom, basements require us to build a suspended ceiling drop to cover duct work, pipes or steel beams. This is one of our specialties. Our skilled Milwaukee ceiling designers will develop a creative, effective and practical design within your budget and get it installed quickly and flawlessly. Our courteous and friendly workers will schedule the work to keep any inconvenience to a bare minimum. Top-quality craftsmanship and excellent customer service are our touchstones.
Strictly Ceilings®: Decades of Drop Ceiling Tile Expertise
Strictly Ceilings® has over 20 years of experience installing drop ceiling tiles throughout Southeastern Wisconsin and Northern Illinois. If our do-it-yourself ceiling installation videos aren't for you, hiring the professional team at Strictly Ceilings® is a valid alternative. When it comes to suspended ceiling grid and tile installation, Wisconsin consumers turn to Milwaukees #1 Drop Ceiling Installation company. There are a variety of drop ceiling tile designs available to custormers today, including wood, metal and raised panels. View our collection of installed drop ceilings in our Gallery. These photos show our wide range of Milwaukee drop ceiling installations, as well as other drop ceiling tile installations throughout Southeastern Wisconsin. We have installed over seven million square feet of finished ceilings. In all cases, our expert suspended ceiling designers provided the precise planning needed to assure a superb final result. With Strictly Ceilings®, your complete satisfaction is guaranteed.
When your residential drop ceiling project is completed...We guarantee you'll look up to us!
For Wisconsin's best residential ceiling installation contact the ceiling installation experts at Strictly Ceilings®.