Strictly Ceilings® Is The #1 Suspended Ceiling Installation Contractor in Southeastern Wisconsin and Northern Illinois!!!
Strictly Ceilings® has been in business for over 20 years and weathered 2 recessions. We're not a fly-by-night company. We are a well-established suspended ceiling installation company in southeastern Wisconsin. We've installed millions of square feet of suspended ceiling systems while working for many notable corporations both large and small. Check out our clients served page. If you need a new commercial drop ceiling installed, of any size, whether it's an office space, certified clean room, warehouse, fire-rated kitchen, conference room or various other types of suspended ceilings, contact us now for a quick and comprehensive quote.
When it comes to commercial acoustical ceiling installation, there's no way to top Strictly Ceilings®. Our skilled Milwaukee drop ceiling installers have seen it all, done it all, and continue to do it at the most cost-effective prices. Our lengthy track record of success is why we began our line of do-it-yourself ceiling installation videos, passing on an opportunity for people to master ceilings themselves. Our full line of tools and products are also the cream of the crop, available in our ceiling supplies Superstore.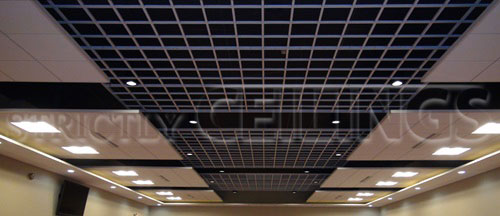 Strictly Ceilings® is your source for every imaginable type of suspended ceiling installation, including but not limited to: acoustical ceilings, custom-designed ceilings, all types of grid and tile ceilings, drywall suspension grid ceilings as well as floating acoustical clouds.
Our skilled drop ceiling craftsmen have the experience, knowledge and ability to quickly and efficiently achieve desired results to your complete satisfaction. Your new suspended ceiling will be expertly installed using the most technologically advanced lasers on the market today.
If needed, Strictly Ceilings® also performs turn-key installations which include light-fixtures and HVAC grills installed into your new suspended ceiling.
Drop Ceiling Installations: Fast, Affordable, and Complete
Strictly Ceilings'® Milwaukee drop ceiling professionals can perform a comprehensive evaluation of your space and offer a quick and affordable way to enhance the entire décor of a room. Many times we can quote your project right over the phone. If needed you can send us your .pdf plans by clicking on the request a quote tab to the above right.
Custom Drop Ceiling Designs Will Improve Your Image
Employee morale will improve and so will your image to new and prospective customers. Our drop ceiling specialists have earned an excellent reputation for top quality suspended ceiling installations throughout Southeastern Wisconsin – Milwaukee, Waukesha, Mequon, Racine, Kenosha, New Berlin, West Allis, Brookfield and surrounding areas. We also provide drop ceiling installations for businesses in Northern Illinois.
Strictly Ceilings® Drop Ceiling Contractor Provides Creative, Practical, and Affordable Custom Designs
Every business is different and so is just about every suspended ceiling. The details of each drop ceiling vary and so do the needs of our customers. We make those needs our objective! We can design your new drop ceiling to create a unique, distinctive look while masking all potentially unattractive elements. We also realize a great suspended ceiling is out of the question if it costs too much. That's why our Wisconsin drop ceiling designers assure you of an affordable, functional and attractive ceiling installation with all work completed on schedule and within your budget.
Professional Drop Ceiling Installation Finished Expertly, Conveniently and Smoothly
Whether you need new construction or a major ceiling remodel, our Wisconsin suspended ceiling professionals in Milwaukee will complete your installation in an efficient, expert and convenient manner. Our drop ceiling specialists install virtually any kind of suspended ceiling – acoustical ceilings, grid and tile ceilings, drywall suspended ceilings and all manners of custom-designed drop ceilings. Your complete satisfaction is guaranteed. Furthermore, expert installation by our Milwaukee ceiling specialists assures the manufacturer's warranty remains in effect. Work will be carefully scheduled to minimize disruption and inconvenience to your business. Clean-up will be thorough, with no debris left behind in your workplace. When the drop ceiling installation by Strictly Ceilings is completed you'll know why we always say... we guarantee you'll look up to us!
Strictly Ceilings® Distributes Top-Quality Drop Ceiling Products & Supplies Nationwide
Strictly Ceilings® is developing into a nationwide supplier for top-quality suspended ceiling installation products. Our goal is to enable convenient, online purchases of a full range of suspended ceiling supplies – everything needed to complete your drop ceiling project in a timely and cost-effective manner. Visit our website often to check on our growing selection of ceiling products and supplies.
Strictly Ceilings®: Best Products Backed by Best Customer Service
When you need your drop ceiling grid and tile installed, Strictly Ceilings® will provide a firm and fair estimate. Many quotes can be done over the phone. Our Milwaukee suspended ceiling experts will work with you to meet your budget requirements, giving you the very best combination of affordability and excellent service. After customer approval of the price, the work begins. We use only quality materials from manufacturers such as Armstrong, USG, CertainTeed, and Chicago Metallic. A full array of services is offered, even the placement and installation of lighting if needed. The result is a superior drop ceiling installation which will be a source of satisfaction for years to come.
For a well-designed, superbly installed commercial ceiling contact the ceiling installation specialists at Strictly Ceilings®.